Monday, February 19, 2018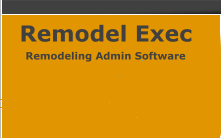 Client/Customer Service:


Please sign in or create a new account.
Newsletter
Sign up to recieve our newsletter and recieve information that will help your business grow.

Home
Click Join Now - 90 Day FREE Trial!!

What Is Remodel Exec?

Remodel Exec is a web-based organizer for administering remodeling contracts for clients and staff. When you are ready to mark a booking on your calendar you would login into your Remodel Exec program via your Internet browser, create your customer database and add their event and contact details into your database. There are many features Remodel Exec offers that will facilitate the daily operation of your company. You will be able to have your client login with a unique password where they may fill out a project list, accept payments and more. You will also be able to email contracts, invoices and more. If you use subcontractors or employees, your employees or sub-contractors will be able to view their events from anywhere they can get an internet connection with their own individual password. They will also have links to map quest for directions to and from the client's home or job site. Remodel Exec is software for remodelers made by remodelers.
Full online booking/event administration for Remodeling Companies
Complete company setup in minutes
Create your own custom contract forms, including company logos and more
Email and print professional looking contracts, invoices, receipts for your clients
Website inquiry form integrated with information automatically imported into Remodel Exec database for new clients
Client login accessibility with client features
Accept client payments (Full gateway integration w/ your payment processor – Authorize.net etc)
Automatic email reminders, task/appointment calendar
End of the year business reports
Low level administration access for staff with unique password
Driving directions to job sites
Web accessible 24/7